Send Inquiry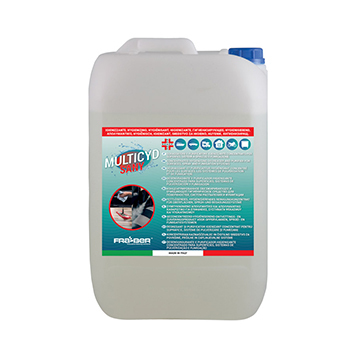 Product Description
CONCENTRATED HYGIENISING DEGREASER AND PURIFIER.

Ideal to clean surfaces quickly and provide deep hygiene, leaving vehicles, offices, homes, gyms and bins looking shiny and smelling nice. Can also be used in spray and extractor machine. Also particularly effective for those seeking deep hygiene removing, together with dirt, germs and bacteria substances causing unpleasant odours from fabrics, faux leather, skis, dashboards, toilets and floors.
For fumigating/fog machines, discover the MULTICYD SANY FOG version.
---
Directions for use
For daily cleaning and hygiene: dilute 21ml-42ml for 1L of water (1:49 1:24). Spray or apply on the surface and rinse with a damp cloth/mop.
For purification and deep hygiene: dilute 100ml in 900ml of water (1:9). Spray or apply on the surface and rinse with a damp cloth/mop.
Test it on a small area before using it on new or delicate surfaces. Do not apply on hot parts.
ATTENTION
The active substance contained is free from aldehydes, halogens and its also suitable for food environments, for indirect food contact.
The ingredients of the formula attack dirt and favor its solubilization and subsequent removal from surface.
The mechanical action of the cloth, performed by the operator, allows the removal, together with dirt, of germs and bacteria present on the treated surface.
Laurylamine dipropylenediamine is present both as a preservative and as a rheology modifier of the product.
---
| Packaging | Code Item |
| --- | --- |
| Jerry-can 5 Lt | 700022 |
Enter Buying Requirement Details